(Link to deviantart journal/commission sheet)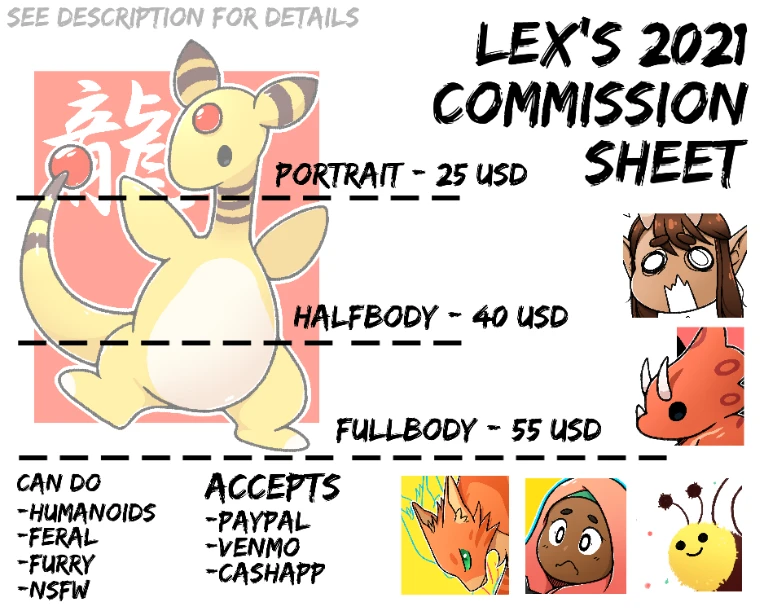 Hello everyone! I've decided to update my commission information to take on work passively.
So...
Lexissketches's 2021 Commissions!
WHAT I AM CURRENTLY OFFERING:
> Headshots/Portraits - 25 USD
> Halfbody - 40 USD
> Fullbody - 55 USD
TYPES OF ART/SUBJECTS I WILL WORK ON:
> Humans/humanoids
> Furry/anthro
> Feral/animals/Warrior Cats
> Fanart
> NSFW
> Honestly...just ask! The worst I can say is I can't do it. All discussion regarding the commission whether it is accepted or not is 100% confidential. Scouts honor!
METHODS OF PAYMENT AVAILABLE:
> Paypal
> Cashapp
> Venmo
Please do not send money/points in advance - this will be considered a donation!
HOW IT WORKS:
> If you are interested in a commission, feel free to either comment below, message me privately OR email me at lexissketches@gmail.com. Please note it may take some time for me to get back to you!
> Please be able to provide some sort of reference of your character. If you want a certain posing, or want this commission to emulate something I've made in the past, please speak up! I would be more than happy to make this just how you want it.
> Once the details are settled, you will receive a sketch WIP for corrections. Once approved, payment must be sent. After payment is received, commissioner will receive the lined and flat-colored image for additional corrections. After that, you'll receive your file!
> Feel free to use your commission as you see fit. Repost, edit, trace or do as you please - you paid for it! If you would like to credit me for the work, it is appreciated, but not required.
PLEASE NOTE:
> I reserve the right to deny any commission request at any time. Sometimes I know my limits! You deserve the best quality!
> No refunds! Except in cases where I clearly cannot provide the agreed upon content. But that's it!
> I do have a commission available via the commissions tab - DO NOT REQUEST VIA HERE. This is for informational/organizational purposes.
Feel free to ask questions or voice concerns. I try to be fair and flexible with my customers. All I ask for is a little patience and kindness :)